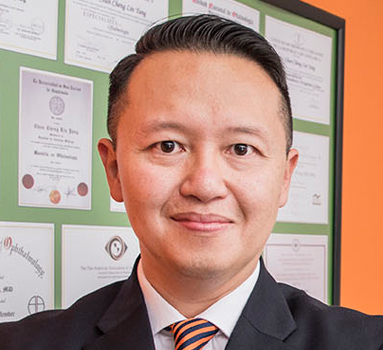 Doctor specialized in oculofacial plastic, reconstructive, and orbital surgery.
Dr. Lin Yang specializes in cosmetic and reconstructive surgery of the eyelids, tear drainage system and the orbits (Oculoplastics, Lacrimal, and Orbital Surgery). He is the first ophthalmologist (eye MD) in Costa Rica with formal fellowship training at a premier oculoplastics & orbital surgery program in the United States. After returning to Costa Rica, he pioneered the recognition and accreditation of Oculoplastics, Lacrimal and Orbital Surgery by the Costa Rican College of Physicians and Surgeons (Colegio de Medicos y Cirujanos de Costa Rica). Among other achievements, Dr. Lin Yang is also the first Costa Rican and Central American oculoplastic and orbital specialist inducted to the American Society of Ophthalmic Plastics and Reconstructive Surgery (ASOPRS). His areas of interests and expertise include aesthetic facial rejuvenation, disorders of the eyelids, tear drainage system, and orbital disease. He is well published in peer reviewed journals and serves as editor of several journal of importance in the field. He regularly presents at national and international conferences as well. Dr. Lin Yang is fluent in Spanish, English, and Chinese Mandarin.
Outside his clinical work, Dr. Lin Yang and his wife Carmen Maria are fans of international tennis and NBA basketball. Both enjoy traveling and Asian cuisine.
American Society of Ophthalmic Plastics & Reconstructive Surgery (ASOPRS)
American Academy of Ophthalmology (AAO)
Pan-American Association of Opthalmology (PAAO)
Sociedad Centroamérica de Oculoplastica y Orbita
Colegio de Médicos y Cirujanos de Costa Rica
Colegio de Médicos y Cirujanos de Guatemala
Ophthalmology
Ophthalmic Plastics & Reconstructive and Orbital Surgery
Gillingham Pan-American Fellowship
International Council of Ophthalmology Fellowship
BA (Chemistry)
– Baylor University, Texas, USA
MD
– Universidad Autonoma de Centro America/UCIMED, San Jose, Costa Rica
MSc (Ophthalmology)
– Universidad de San Carlos de Guatemala, Guatemala
Unidad Nacional de Oftalmologia, Hospital Roosevelt de Guatemala, Universidad de San Carlos de Guatemala
– Opthalmology (Residency)
– Ophthalmic Plastics, Reconstructive & Orbital Surgery (Fellowship)
Center for Facial Appearances, Utah, USA
– Ophthalmic Plastics, Reconstructive & Orbital Surgery (Fellowship)
– Preceptors: John D. McCann, MD, Ph.D & Richard L. Anderson, MD, FACS